Dining
You won't find senior living in Marietta, GA, that offers finer dining variety or quality.
Contact Us
We Make Every Meal an Experience
At all our dining venues, you'll find fresh, colorful food prepared creatively by our Chef and his staff with a focus on nutrition and good taste. We serve fresh produce, vegetables, meats, and fish. The nutritional benefits of the balanced meals we serve include increased mental acuity, resistance to illness and disease, higher energy levels, faster recuperation times, and better management of chronic health problems. This translates into less future senior care for our residents.
Independent Living Dining
Although all of our Independent Living Cottages, Garden Homes, and Independent Living Apartments have kitchens, there are going to be times when you'll care to enjoy eating at one of our grand yet comfortable dining venues.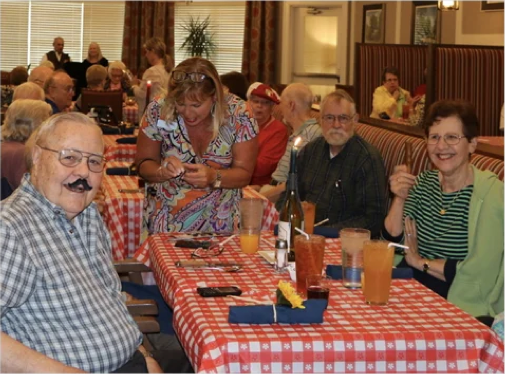 The Hampton Club
In our new clubhouse, The Club at The Hampton Residence, we feature indoor and outdoor patio dining along with a full-service pub. You will enjoy an upscale yet casual dining experience in a country club environment. Residents enjoy dining with friends and families choosing between salads, sandwiches, burgers or building your own pizza cooked in our outdoor specialty brick oven. Desire a heartier meal? Dine on seafood or Butcher's specials. Private parties for families and old friends are arranged upon request.
toggle The Hampton Club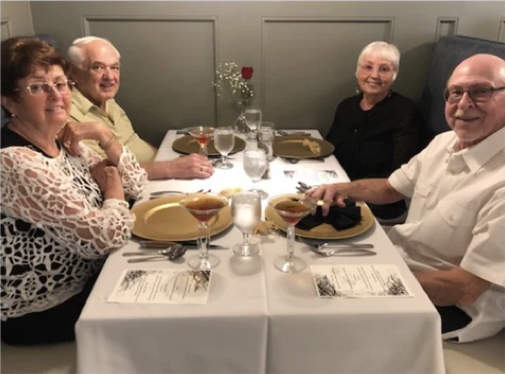 The Sterling Grill
The Sterling Grill Menu is available for our Independent Residents living in The Stratford, Hampton, or one of our Cottages. The 55-seat Sterling Grill casual bistro is located in our Landmark Residence. It features an open grill, where your meal is cooked to order right in front of you. Choose from appetizers, soups, salads, fresh vegetables, seafood and steaks. Top it off with our delectable home-made desserts. It's a country club experience that every resident can enjoy without leaving the campus. Weekly Sunday buffets are a must along with seasonal themed dinner party events.
toggle The Sterling Grill
Assisted Living Dining
We take great care in creating fresh, nutritious meals that satisfy the senses.
Residents living in the Landmark building receive 3 meals a day in our Main Dining Room which is elegantly designed and decorated. We deliver a rich variety of choices for each meal that residents are able to preselect. Nutrition and freshness are of the utmost importance to our chefs in designing our menus and preparing meals in our kitchens. We take care to address any special dietary needs for our residents.
CLICK HERE TO VIEW THE LANDMARK MENU
We have a private dining room as well where a resident may desire to celebrate with family and friends that special occasion in an elegant yet quiet environment.
Community-wide parties and events are held throughout our Main Dining Room and adjoining large courtyard and patio.
After working out at the Wellness Center, you can always stop at our Casual Café. There, you can either enjoy a continental breakfast, read your favorite local newspapers, and "shoot the breeze" in the company of friends.