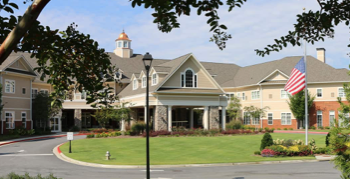 Sterling Estates Building Senior Living Community in West Cobb
Sterling Estates of West Cobb, a senior living community at 3165 Dallas Highway in west Cobb between W. Sandtown Road and Kennesaw View Drive, will have a grand opening mid-month at which time 50 residents are expected to move in.
Construction started a little over a year ago on this senior rental community complete with cottages, garden homes, independent living apartments and assisted living suites.
West Cobb residents Anne and David Strand will be moving into one of the 21 cottages currently under construction."We don't need all the stuff and space in our old home, but we do like the large master bedroom, bathroom and living areas of our new home at Sterling Estates," the Strands said. "We're also glad somebody else will be in charge of all the yard work and maintenance. We write only one check, and they take care of everything."
"We're local developers, owners and managers, which gives us the opportunity to be involved on a daily basis, which is what we love," said Mike Brown, managing partner of Sterling Estates of West Cobb. "What we've learned through the years is that seniors are no different than anyone else; they want a variety of housing options. However, all seniors are looking for socialization opportunities, great food in an inviting setting, a desire to stay independent and the ability to age in place."
"Here at Sterling Estates of West Cobb, we've built a neighborhood where sidewalks, front porches and planned events give you many opportunities to socialize. We'll have three dining venues with a variety of menus and choices. Food is very important in our business; in fact, our culinary team at our sister property in east Cobb just won the annual, local food festival called 'Taste of East Cobb.' We believe physical activity is essential to maintaining one's independence and have built a 7,500-square-foot wellness center professionally staffed and complete with an indoor, heated salt water pool. We believe that we'll have the only licensed assisted living community in the market to provide care for those who may need help with the activities of daily living," Brown said.
Model home tours are available and the Leasing Center is now open on site. Pricing starts at $3,950 per month for Independent Living apartments.
For more information, call 770-255-7000 or visit www.sterlingestateswestcobb.com.