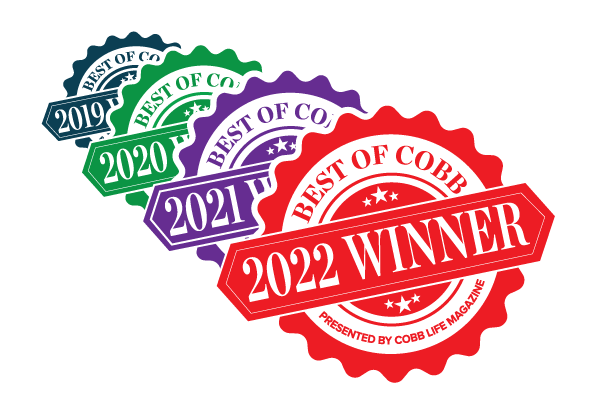 Sterling Estates Awarded Top Honors in 2022 Best of Cobb
Cobb Senior Living Communities "Stronger than Ever" as Recognized for Fourth Consecutive Year
Marietta GA (March 29, 2022) – Cobb Life Magazine and the Marietta Daily Journal have named Sterling Estates senior communities to its 2022 "Best of Cobb" list. Sterling Estates of East Cobb was voted Best Assisted Living Community in Cobb County, while its sister property Sterling Estates of West Cobb was voted Best Retirement Living Community. The West Cobb community's The Grande at Sterling Estates was also named Best Memory Care Community. This is the fourth year in a row for the senior living communities to receive top honors in the contest, which awards businesses based on voting open to the public.

"We're honored that our Sterling Estates communities have been recognized as 'Best of Cobb' again in 2022," said Marshall Gill, chief operating officer and partner, Sterling Estates Senior Living Communities. "The designation is an awesome tribute to our staff members, who worked tirelessly through the COVID pandemic to keep our residents safe."

The Sterling Estates communities were the only senior living communities in the state of Georgia approved as a direct supplier of the COVID vaccine, allowing the residents, staff and family of all three of its communities to achieve full vaccination status before other senior communities.

"We've been serving seniors in greater Atlanta for over twenty-five years now. We believe we've led the way in not only keeping our residents healthy and safe throughout the last two years but also socially engaged and physically active," added Gill. "Our Sterling Way Wellness Programs, our large wellness centers and abundant green spaces have been big differentiators for us and recognized by our residents as major contributors to maintaining their well-being."

Over 460,000 votes were cast in the various categories in the Best of Cobb contest – twice the number from last year's contest. The winners were announced online and in a special issue of Cobb Life in March. The Best of Cobb Celebration took place on March 24 at Jim Miller Park in Marietta. The full 2022 Best of Cobb list can be found at mjdonline.com.

Sterling Estates of West Cobb is located at 3165 Dallas Highway, and Sterling Estates of East Cobb is located at 4220 Lower Roswell Road, both in Marietta. Each community has independent living cottages, garden homes and apartment homes in a classic neighborhood setting with large Wellness Center, indoor heated pool, gourmet dining, active social calendar, walking paths, a large resident garden and beautifully landscaped courtyards, among other amenities, for resident enjoyment. As well, each community has licensed assisted living apartments for residents who need help with activities of daily living. Sterling Estates of West Cobb also has The Grande at Sterling Estates, a Center of Excellence dedicated Memory Care Community, on its campus.

Private tours of both communities are available by appointment; call Sterling Estates of West Cobb at 770.255.7000 or Sterling Estates of East Cobb at 678.946.4454 for scheduling.

About Sterling Estates
We build with more than bricks and mortar – we build Sterling Estates senior living communities with a commitment to provide the finest lifestyle, services and care for our residents. Our desire to build and operate these communities came out of a need to offer our own family members better lives, and we strive to do the same for you and yours.

Current Sterling Estates are located in East Cobb and West Cobb, with a future development in Cumming, Georgia, Sterling Estates of Forsyth, to begin construction soon. Each of our communities offers exceptional living accommodations, myriad opportunities for continued happiness, and a warm, friendly environment conducive to making new friends and enjoying family. At each of our communities, we uphold what we feel are life's most important values: service, faith, dependability, and the one special feeling that everyone in the world holds for the members of their families – hope.

Hope is the common thread that, throughout the ages, has inspired people to pursue the best qualities of life. Family and hope–those are the qualities that make a life "Sterling."